---
The Georgian House
Kitchen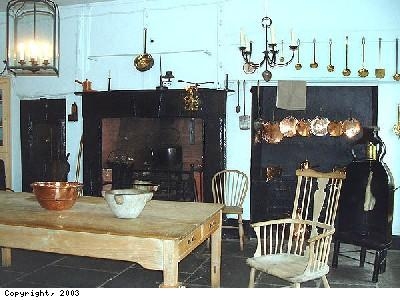 The kitchens in the Pinney house are below street level from the front of the house, but at the rear they are on the first floor and face south. Imagine a blazing fire for cooking and the oven heated to bake bread. It would have been very hot especially in summer. The larger of the two kitchens was used for the everyday cooking. The huge kettle hanging over the fire was needed to provide all the boiling water for washing up and cleaning.
The massive fireplace has a spit, a rod on which large joints of meat such as ribs of beef and legs of lamb could be roasted. Pans resting on the fire or in the hearth on hot coals cooked the vegetables and sauces needed for the meal. Beside the fire is the bread oven, used for making pies and the many loaves of bread required daily.
Cupboards and a huge dresser hold all the brass, copper and iron pots and pans needed to prepare the great number of dishes for the main meal. Skillets or pans with three legs, were used in the warm coals on the floor of the fireplace. Many of these pots and pans were made locally in Bristol. Evidence of similar, locally-made cooking pots and tableware has been found on Nevis and other islands in the Caribbean. Such items were traded with the plantations by Bristol merchants. The plantation owners expected the same standard of living as they would have known in England.
Please click the images below to discover more…