---
The Georgian House
Drawing Room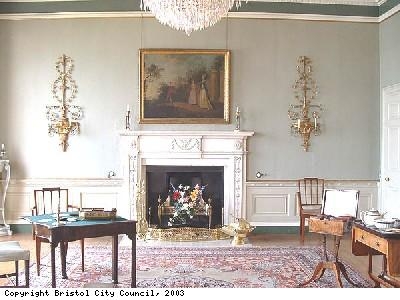 The Drawing Room has an air of richness and grandeur with fine furniture and paintings. It is a spacious airy room, with a view down the hill of the Cathedral and river (now hidden from sight by newer buildings). The distant view is still one of hills and rolling countryside. As was the Georgian custom, limited furniture of the best quality is arranged formally around the edge of the room. Taking tea was quite a ceremonious occasion, as in the 18th century, it was a new and expensive drink. Leaf tea was therefore kept in locked containers (or caddies), only the mistress of the house holding the key.
The room was designed to be impressive. Important guests would have been entertained here following their generous dinner. One such visitor was Frances, Lady Nelson, wife of Admiral Lord Nelson. Lady Nelson, formerly Mrs Nisbet, had lived on Nevis, and knew the Pinney family.
Both John Frederick and Azariah, John Pinney's two eldest sons, were friendly with some notable 18th century people who may have visited the house. They included William Wordsworth, a well-known poet, writer Charles Lamb, and Samuel Taylor Coleridge, a poet and philosopher.
Please click the images below to discover more…