---
The Georgian House
General details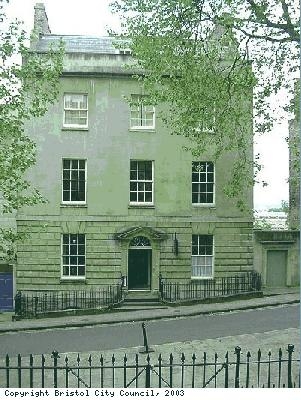 In 1762 John Pinney inherited the Mountravers sugar plantation on Nevis in the Eastern Caribbean. When he took it over, the plantation was neglected and in debt. Through careful management, he improved the plantation. The money he made from the plantation was used to build his house and start a new business in Bristol. Pinney's new business in Bristol was as a sugar agent, selling sugar made from cane grown on the plantations on behalf of the owners. Much trade and business in Bristol at this time was involved with the Caribbean and dependant on the trade in slaves from Africa.
The Bristol architect William Paty, of the firm Thomas Paty & Sons, designed Pinney's house in about 1790. At that time they were also involved in the layout and design of numerous streets in Bristol especially Berkeley Square, Park Street and crescents in the wealthy Clifton area.
The façade or front of Pinney's house is built in Bath stone. The design of the house is slightly unusual as it was detached. In towns, Georgian houses were usually built as terraces. This house was built to be both fashionable and practical.
Today the house is an important museum site belonging to Bristol Museums and Art Gallery. The rooms are furnished in the Georgian style of 1790. Many objects in the rooms are representative of the period but were not owned by the Pinney family. The house gives us a glimpse of what life was like for a wealthy merchant and his family living in a prosperous city in the late 18th century.
Please click the images below to discover more…