---
The Georgian House
Dining Room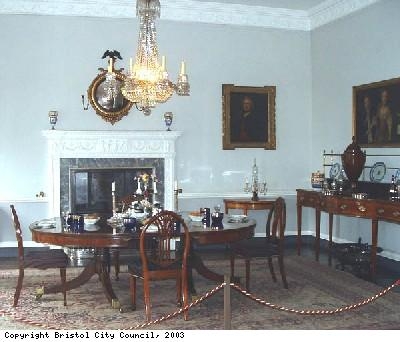 In Georgian England, many wealthy families gave extravagant dinner parties. Pinney's townhouse in Bristol has grand rooms for entertaining. Large and elegant dining tables were made to order by leading craftsmen from expensive wood such as mahogany (from Africa and South America). The extending dining table in Pinney's dining room dates from about 1810.
Pinney may have offered his guests a typical Georgian menu, such as this:
Fryed Sallary (celery)
Oyster loaves (rolls stuffed with fresh oysters)
Sirloin of Beef
Veal Escaloppe and lemons (meat from calves)
Stewed Venison (deer)
Boiled turkey and prune sauce
Syllabub (a pudding made from cream and wine)
Strawberry Fritters (strawberries in batter)
After the food was served the servants could return to the kitchen. They could be called if needed by bells or speaking tubes, both of which are connected to the basement.
Merchants like Pinney were trading with the new colonies of the Caribbean and Americas, and with Africa. New woods such as mahogany, satinwood and ebony were now available for making fine furniture. New foods, such as sugar, tea, rum and chocolate were available for those who could afford it. Many of these were produced using slave labour on the plantations in the Caribbean. Turtles and exotic fruits such as pineapples were also introduced.
Please click the images below to discover more…