---
The Georgian House
Bedroom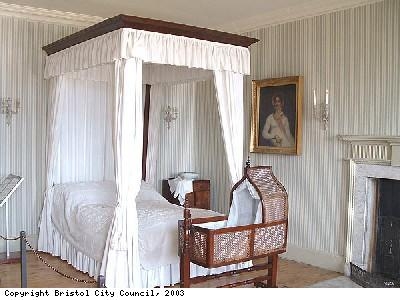 The main bedroom is at the rear of the property. On the fifth floor, it would have had beautiful views over the river and beyond to the hills south and west of Bristol. The room is furnished simply, in the Georgian style.
All the rooms facing south would get much sunlight. One of the duties of the servants would have been to cover up furniture or close the shutters to stop furniture and textiles from fading and being spoiled by the strong light.
Charles, the Pinneys' youngest child, was born at this house on April 29th 1793. Eventually the house became his.
The baby's cradle is 18th century (though the stand is later). The bed dates from 1780 and is made from mahogany, a fashionable wood imported from Africa and South America. There was no specific room just for bathing or washing so a basin sits on the small chest beside the bed. Servants using the hidden staircase would have brought up jugs of hot water when required. No doubt there would also have been a chamber pot in a cupboard, for night-time emergencies.
At this time in England there was no satisfactory sewage or waste water system. There may well have been toilets in small rooms off the internal staircase.
Please click the images below to discover more…