---
The Island of Nevis
Young People on the Island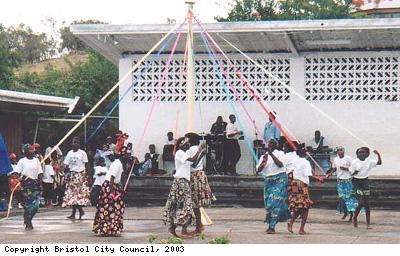 Young girls from St Thomas Primary School dancing a maypole dance at their summer fair [caption to image]
During the summer term the schools on Nevis hold school fairs to raise money for various projects. These may have exhibitions of the children's craft work available to buy, exhibitions of dancing such as the boys' carnival dance and the girls' maypole dancing (pictured is St Thomas Primary School), and the usual games to raise money. They are all well supported by parents, relatives and friends.
During the summer holidays, many young people fly off to stay with parents living and working in the USA, returning to relatives on the island once school resumes. Many teachers also supplement their income during the summer holiday, by marking exam papers in the USA.
Young people remaining on the islands may attend a 'cultural programme', run by the library. Various events are planned such as learning about their cultural roots in Africa, how their parents used to live on the island, traditional cooking and drumming workshops.
The libraries also offer access to computers and email facilities for young people though many have their own at home.
Please click the images below to discover more…