---
The Island of Nevis
Churches and Religion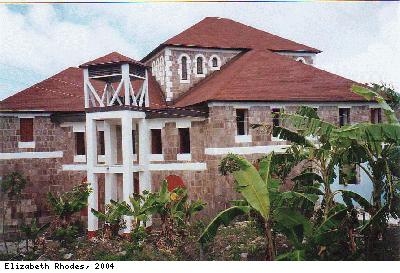 The people of Nevis fill their churches not only on Sundays but throughout the week for clubs and meetings. Religious expression is part of their everyday lives and many a meeting begins with a short prayer. Churches cater for a great variety of worshippers from Methodists (Gingerland Methodist Church is shown here), Anglicans and Roman Catholics to the diverse modern expressions of non-conformity. Churches abound on the island of Nevis and most seem to have a sound system amplifying the service to the surrounding area! Services are lively and exuberant with much singing and dancing but also considerable time for the essential address. Churches also run clubs for the elderly and arrange outings for their members. The islanders enjoy a sociable lifestyle, regularly visiting friends on other islands.
Many people on the island are inter-related, and for this reason perhaps there is an atmosphere of caring, both for the welfare of the elderly and the instruction of young people in the ways of the past. The population of Nevis remains fairly stable at around 11,000. Each year, people leave to find work, gain experience or training elsewhere in the world.
Others return from working overseas, especially the UK and USA, to spend their retirement in the country of their birth. To return to the island is to live in a wooden house, never far from the sound of the waves and cooled by the ever-present trade winds.
Please click the images below to discover more…