---
The Island of Nevis
Government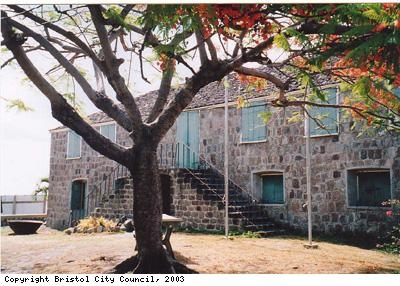 The islands of St Kitts and Nevis form one country, independent from Britain since 1983. The two islands govern themselves separately. Nevis is a democracy, with a National Assembly of 14 members. The National Assembly building in the capital Charlestown is shown. Adults over the age of 18 vote for 11 of these and three are nominated. Nevis can make its own laws, has a premier and manages its own affairs.
St Kitts & Nevis recognise Queen Elizabeth II as Head of State with a Governor-General as her representative on the island, who takes advice from the Cabinet. The Cabinet, the people who are elected to make decisions, consists of the Prime Minister (who must have the support of the majority of members of the National Assembly) and all the other ministers of government. The Governor General appoints the Leader of the Opposition. The Prime Minister and Cabinet are responsible to the National Assembly.
There are three Political parties on Nevis, the Nevis Reformation Party (NRP), the People's Action Movement (PAM) and the Citizens Concerned Movement (CCM). The CCM is at present the ruling party. There has long been a demand, suppported by the present Nevis government, for Nevis to separate from St Kitts and become a country in its own right.
Last elections: March 2000
Next elections: March 2005
Head of State: H.M. Queen Elizabeth II, represented by Governor General H.E. Sir Cuthbert Montraville Sebastian GLMH.
Head of Government: The Prime Minister, the Hon. Dr Denzil Llewellyn Douglas.
Nevis Premier: the Hon. Vance Amory.
The legal system is based on English common law. St Kitts & Nevis is under the authority of the Eastern Caribbean Supreme Court, which has a judge in St Kitts. There is a High Court and a Court of Appeal, and there are Magistrates' courts. There is also the opportunity for appeal to the Privy Council in London.
Please click the images below to discover more…