---
The Island of Nevis
Nevis, 'Our Lady of the Snows'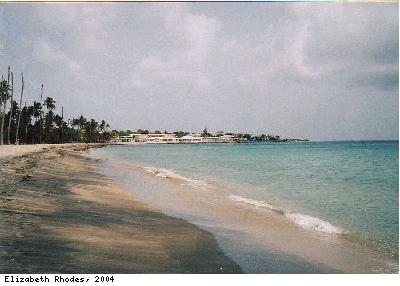 The island of Nevis is fringed by sandy beaches lapped by the warm waters of the Caribbean Sea [caption to image]
The islands of Nevis and St Christopher or St. Kitts form a single political unit, part of the Leeward Islands in the eastern Caribbean. Nevis is about 36 square miles and is the topmost part of a volcano that rises from the ocean floor and juts out into the sea.
On 12th November 1493 Christopher Columbus was the first European to see the islands. It is said that he named them San Jorges (St. Kitts) and San Martin (Nevis). Sailors following the early maps found it difficult to identify the islands, and San Jorges became San Cristobel and San Marten became Santa Maria de las Nieves or 'Our Lady of the Snows'. Another story says that the island was called Santa Maria de las Nieves because the clouds above Nevis Peak, the highest point on the island, looked like snow: and because of the way Nieves was pronounced it became 'Nevis'.
The island of Nevis is almost circular and surrounded by sandy beaches, many fringed with coconut palms. Most of the roads circle the island following the contour lines because the sides of the volcanic mountain, Mount Nevis (985m high), can be quite steep.
Bath Stream, in a suburb of Charlestown, is the only stream on Nevis that flows all year round. It is fed by a hot spring. There are no natural lakes. 90% of islanders rely on rainwater collected naturally in aquifers around the coast, that is underground areas of permeable rock which holds water. It is pumped to reservoirs and then piped to households and community pipes. Some householders have private cisterns or tanks to catch rainwater falling on their roof.
The climate is tropical, between 26° C and 33° C (the highest temperature recorded this century), though there is usually a cooling breeze from the north east trade winds. Hurricanes occur frequently between July and November and can cause havoc, tearing down trees and destroying buildings.
The magnificent frigate birds and stocky pelicans can be seen around the coast whilst inland, tiny hummingbirds are attracted to the tropical flowers. Many different species of fish can be spotted in the clear water around the coastline. Further out to sea, turtles can still be seen though their numbers have been drastically reduced. Turtle programmes have recently been set up to monitor and encourage the protection of the turtle population.
Please click the images below to discover more…