---
John Pinney
Treatment of slaves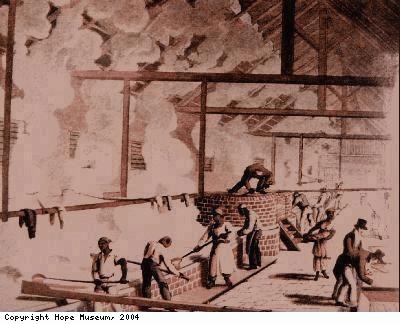 Many plantation owners kept only a minimum number of slaves, working them hard and hiring extra when needed. The death rate for slaves was high. Many owners believed it was easier and cheaper to buy new slaves than to look after existing ones. Pinney realised the advantages in keeping enough slaves, not hiring extras, and in feeding them what he considered to be enough and encouraging them to grow their own provisions. He felt that this made economic sense, as he would get more work from healthy slaves.
Pinney's instructions to his managers include the following: 'Avoid as much as possible the calling in of a Doctor to the Negroes; they are so exorbitant in their charges… Simple good nursing and kitchen physick are the only requisites to recover sick negroes'
….'it affords me great satisfaction to hear that my people behave well… I am happy in rendering them service and begrudge them nothing the Estate can afford, but we must act with prudence and discretion in all we do; taking care not to grant particular favours so frequent as to give an opportunity to look on it as a matter of right – I mean in giving them every Saturday afternoon … you should occasionally vary the day and when it is dry weather you may defer it several weeks together and if any Negroes are so idle and lazy as to neglect their Provision Ground, you shall… oblige them to work in the field, while the others are labouring for themselves'.
Please click the images below to discover more…