---
Page 1 of 1 pages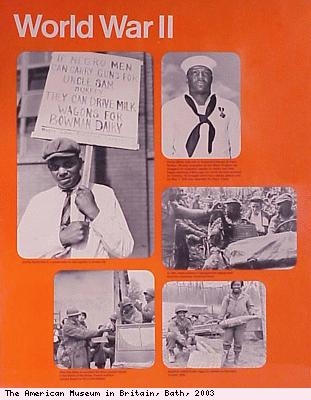 Description:
Poster: World War II.
Top left picture
During World War II a picket asks for job equality in civilian life.
Top right picture
Dorrie Miller was one of Americas heroes at Pearl Harbour. Boxing champion of the West Virginia, he dragged his wounded captain to safety and then began manning a Navy gun, for which he had received no training. He brought down four enemy planes and on May 7, 1942 was awarded the Navy Cross.
Middle right picture
In 1944, these soldiers in Bougainville (Solomon Islands, Papua New Guinea) helped push back the Japanese, island by island.
Bottom left picture
After the Allies drove back the Nazi counter-attack in the Battle of the Bulge, French soldiers reward GIs who helped.
Bottom right picture
Soldiers rolling Easter eggs for delivery to Germany in April, 1945.
Contributed by John Judkyn Memorial
Date: 1939 - 1945
Copyright: The American Museum in Britain, Bath
Object ID:74.179.9
Page 1 of 1 pages