---
Page 1 of 1 pages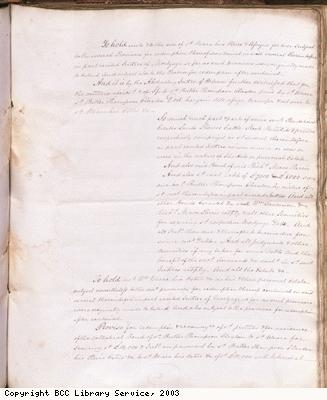 Description:
Jefferies collection – Bristol MSS Miscellaneous.
Page 3 of a copy of the title deeds of George Weare Braikenridge: to land in island of Nevis and as mortgagee to a large estate there.1818.
He inherited the estate from his cousin William Weare in 1836.
The large estate had belonged to a William Lawrence, who owed £7000 to Robert Claxton and Son. He paid the debt by granting the estate to the Claxtons until he could pay the money.
Claxton passed estate to William Weare of Abbots Leigh, Bristol, to pay off £10 000 loan which he owed to Weare.
The deeds include copies of a number in indentures (Indres ) at different dates.
They also include information about 45 acres of land bought from the Pinney family. (See pages 4 and 9).
John Pinney was a wealthy sugar merchant and plantation owner who lived in Bristol.
Date: 1818
Copyright: Copyright BCC Library Service
Page 1 of 1 pages