---
Page 1 of 1 pages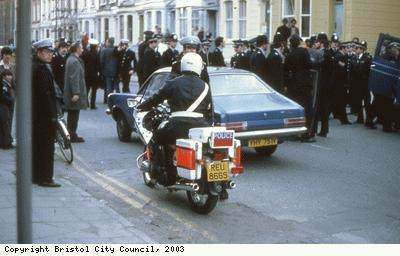 Description:
A group of policemen at the St Pauls Riots, Bristol.
The riots in St Pauls, Bristol, in 1980 brought the area to national attention and were the first in a series of riots in large cities across the country
Contrary to popular belief, the riots in St Pauls were not strictly race riots. They were part of a long Bristol tradition of riotous action by the citys poor against perceived injustice which date back to the early 1700s at least
In 1980, both white and black youths were involved in a protest against heavy-handed policing There did seem to be a racial element as black youths felt that they were particularly singled out for unwarranted police attention.
With thanks to David Kirkpatrick for giving his permission to use this image.
Creator: David Kirkpatrick
Date: 1980
Copyright: Copyright David Kirkpatrick
Page 1 of 1 pages