---
Page 1 of 1 pages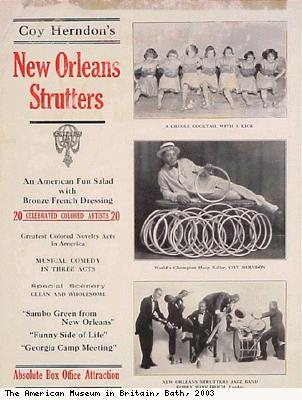 Description:
Theatre poster for Coy Herndon's New Orleans Strutters .
A poster advertising a jazz band, with a juggler (Herndon) and dancers (the Strutters ).
Quotations from the poster read:
…An American Fun Salad with Bronze French Dressing….20 Celebrated Colored Artists….Greatest Colored Novelty Acts in America….A Creole Cocktail with a Kick…..World's Champion Hoop Roller – Coy Herndon…..New Orleans Strutters Jazz Band…
The language used to describe people of African descent in the 18th, 19th and 20th centuries is unacceptable in today's terms. We cannot avoid using this language in its original context. To change the words would impose 20th century attitudes on history.
Contributed by John Judkyn Memorial.
Date: unknown
Copyright: The American Museum in Britain, Bath
Object ID:72.146.5
Page 1 of 1 pages