---
Page 1 of 1 pages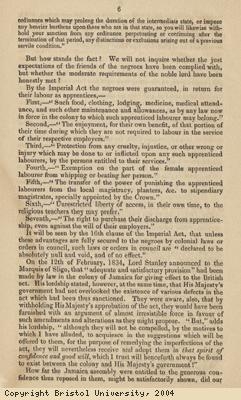 Description:
Pamphlet on Negro Apprenticeship in the Colonies – A Review of the Report of the Select Committee of the House of Commons. The committe was apointed to enquire into The working of the apprenticeship system… Published London 1837.
The committee found that local legislation had been passed which disadvantaged freed slaves.
The language used to describe people of African descent in the 18th, 19th and 20th centuries is unacceptable in today's terms. We cannot avoid using this language in its original context. To change the words would impose 20th century attitudes on history.
Date: 1837
Copyright: Copyright Bristol University
Page 1 of 1 pages