---
Page 1 of 1 pages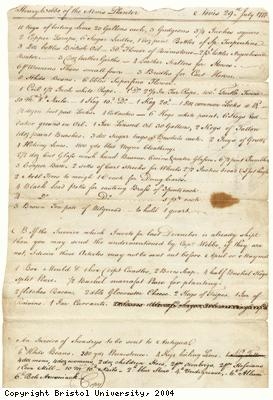 Description:
Papers of the Duncomb family.
Copy of orders and invoices for J R Herbert. Nevis, 29th July 1777. Items to be shipped on the ship, the Nevis Planter . The order includes sugar ladles, horse harness, womens shoes, flour, rope, linseed oil, blue Negroe cloathing (cloth for making clothes), cut glass finger bowls for the dinner table, axles for the wheels of dung carts, dried peas, bacon, cheese, paint, locks and Wedgwood(?) teapots.
The language used to describe people of African descent in the 18th, 19th and 20th centuries is unacceptable in today's terms. We cannot avoid using this language in its original context. To change the words would impose 20th century attitudes on history.
Copyright: Copyright Bristol University
Object ID:DM 1061
Page 1 of 1 pages