---
Page 1 of 1 pages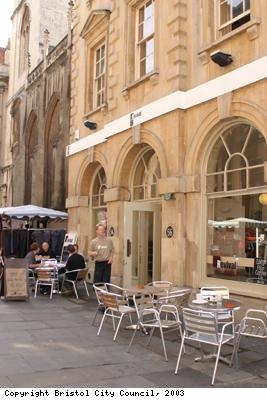 Description:
Photograph of Historic site, 56 Corn Street. Many goods were sold informally at coffee houses.In April 1758, a local newspaper called Felix Farley's Bristol Journal announced an auction to be held here. It was for the sale of 100 hogsheads (or barrels containing 272 kilos) of white sugar and the 70 casks of coffee, captured from a French ship in the Caribbean. From the mid-18th century, rewards for runaway slaves and the sale of slaves from the plantations were advertised in Bristol�s newspapers, which were widely read in the city�s coffee houses.On 12th January 1754 an advertisement in the Bristol Intelligencer announced: For sale [to] any gentleman or lady who wants a Negro Boy, a lad of 14 years recently landed [from the Caribbean].
With thanks to the authors of the Slave Trade Trail around Central Bristol, Madge Dresser, Caletta Jordan, Doreen Taylor.
The language used to describe people of African descent in the 18th, 19th and 20th centuries is unacceptable in today's terms. We cannot avoid using this language in its original context. To change the words would impose 20th century attitudes on history.
Creator: David Emeney
Date: 2003
Copyright: Copyright BCC Museum
Page 1 of 1 pages