---
Page 1 of 1 pages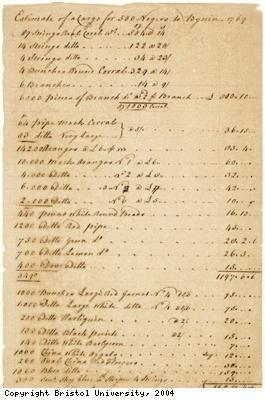 Description:
Papers of the Duncomb family.
Estimate of a cargo for 50 Negroes to Bynin (Benin, Africa). The cargo listed here consists of different types of bead, including the highly prized coral beads which were used as a status symbol by royalty and nobility in Benin. Total estimated value, £1605 6s 6d.
The language used to describe people of African descent in the 18th, 19th and 20th centuries is unacceptable in today's terms. We cannot avoid using this language in its original context. To change the words would impose 20th century attitudes on history.
Date: 1769
Copyright: Copyright Bristol University
Page 1 of 1 pages