---
Page 1 of 1 pages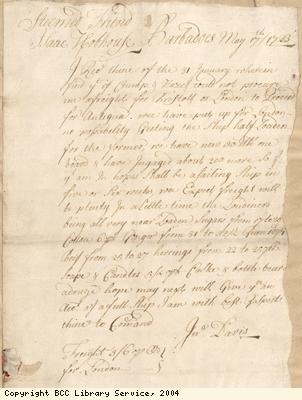 Description:
The African Slave Trade of Bristol. Letters to Isaac Hobhouse and partners. Slave Estates (Jefferies collection).
Hobshouse was a merchant behind slave voyages and owned ships.
Letter to Isaac Hobhouse, Barbadoes about a forthcoming voyage from London to Barbadoes and the cargo it will be carrying (candles, beef, herring, etc).
Date: 1723
Copyright: Copyright BCC Library Service
Page 1 of 1 pages