---
Page 1 of 1 pages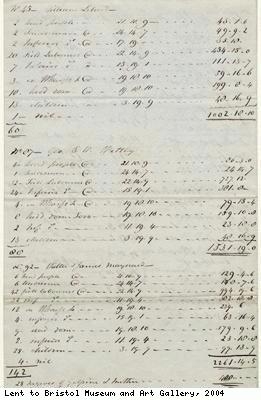 Description:
Pinney papers.
List of slaves on various estates in Nevis, for compensation claims made by owner/s at Emancipation (end of slavery),
in 1834. Lists slaves by trade (head people, tradesmen, field labourers, inferior labourers etc and their value for compensation. Charles Pinney still held slaves – gained in compensation.
The slave owners and their supporters accepted the loss of their property (slaves) in return for compensation (money) from the government. £20 million was paid to slave owners by the British government, as compensation for this loss. Slave owners in Bristol received over £500,000 (worth about £25 million today); a vast sum at that time.
Date: 1834(?)
Copyright: Lent to Bristol Museum and Art Gallery
Page 1 of 1 pages