---
Page 1 of 1 pages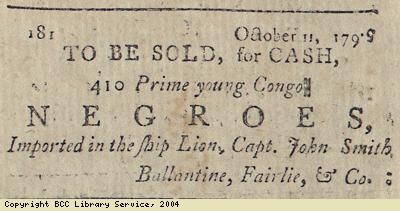 Description:
The Diary and Kingston Daily Advertiser, Jamaica.
Advert for sale of 410 prime, young Congo Negroes, imported in the ship, the Lion of Bristol ; Captain; John Smith. For sale by Ballantine, Fairlie and Company.
The language used to describe people of African descent in the 18th, 19th and 20th centuries is unacceptable in today's terms. We cannot avoid using this language in its original context. To change the words would impose 20th century attitudes on history.
Date: Mon Dec 14th, 1795
Copyright: Copyright BCC Library Service
Page 1 of 1 pages