---
Page 1 of 1 pages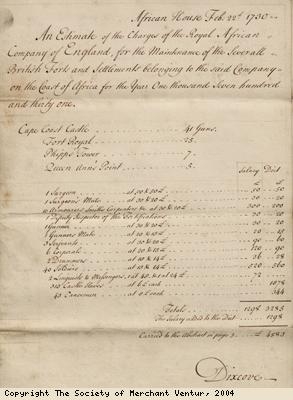 Description:
James Fort, Gambia, accounts Feb 22nd, 1730.
Shows employment of native Africans as well as English at fort, with wages and diet allowances.
The Society of Merchant Venturers is a Bristol-based organisation, which was formed in 1552 as an elite body of merchants involved in overseas trade. The Society still exists today.
Creator: James Fort
Date: Feb 22nd, 1730
Copyright: Copyright The Society of Merchant Venturers
Page 1 of 1 pages