---
Page 1 of 1 pages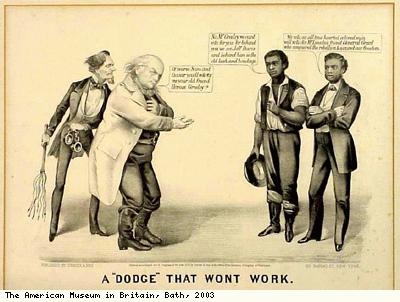 Description:
A Dodge That Won't Work.
Print depicting Horace Greeley seeking the support of two black men.
Horace Greeley (1811 – 1872) was against slavery and during the 1850s, he supported the movement to prevent it continuing.
When the Civil War started, Greeley joined the Republican party's antislavery faction.
He demanded an early end to slavery, which Lincoln anounced in his Emancipation Proclamation (announcement of the end of slavery).
After the war, Greeley joined the Congressional Radicals, who supported equality for freed slaves.
Contributed by John Judkyn Memorial.
Copyright: The American Museum in Britain, Bath
Object ID:74.51
Page 1 of 1 pages