---
Page 1 of 1 pages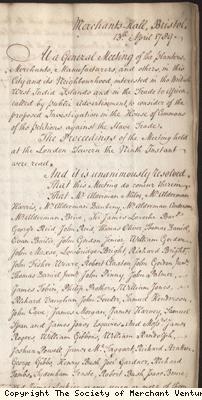 Description:
Minutes of a meeting held at the Merchants' Hall, Bristol, 13th April 1789.
Record of a meeting held to consider the steps to be taken to oppose the threat of the abolition of the slave trade. A committee was set up to liase with the Society of Merchant Venturers and the Committee of London Merchants, to prepare petitions, encouraging all merchants to support them and to ask for support from MPs.
The Society of Merchant Venturers is a Bristol-based organisation, which was formed in 1552 as an elite body of merchants involved in overseas trade. The Society still exists today.
Date: 13th April 1789
Copyright: Copyright The Society of Merchant Venturers
Page 1 of 1 pages